Lawn Mower Cover for Riding Lawnmowers.  Keep your mower looking clean and crisp. Protect your investment when trailering or while in storage.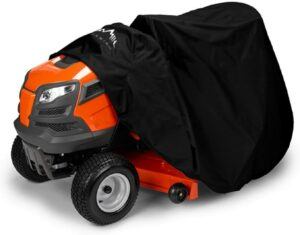 Protects the dash and seat from harmful UV rays and moisture
Water/snow/wind/hail resistant
Prevents scratches and minor dings
Save $$$ by avoiding storage rental fees
Use when trailering or in storage
Easily removed or installed
Lawn Mower Cover Features:
Non abrasive fabric to protect the clearcoat and paint
Breathable material-no condensation under the cover or on your mower
Multiple layers of heady duty material with soft under skin
Elasticized hem holds your car cover in place
Universal fit
carportsncovers.com. No annoying ads. No email sign ups. Just find what you're searching for.