Solar Pool Cover transmits sun rays into heat for your water. Keep your pool water warm, clear and fresh.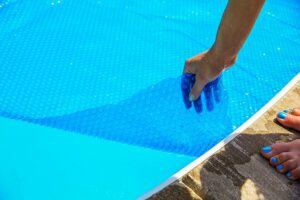 Prevents water evaporation
Transmit UV rays into free heat for your swimming pool
Easy to put on and take off – more time to enjoy the water!
Prevents leaves, bird poop and dust from landing in your pool
Use scissors to trim and custom fit to your pool size
Solar Pool Cover Features:
Solar Pool Covers allow sun rays to enter the pool while the air bubbles trap the heat at night
Made from a durable resin material
For best results, place bubble-side down on your water
Recommended Thickness: at LEAST 12 mils
Shop for heavy duty pool covers here
carportsncovers.com. No annoying ads. No email sign ups. Just find what you're searching for.